NEWS &
INFORMATION
January 2009:
| | |
| --- | --- |
| | January has been a busy month for everyone in the Posse. Work has been very heavy all over South Florida and this seems to be setting the bench-mark for 2009. Everyone is gearing up for the Smoky Mountain Run during June. |
| | Our best wishes go out to Ragu from our Martin Posse. He is going well and will be back in the saddle any day. He is a strong man and quality Law Enforcement Officer. His son is a Rider in our Collier Posse and he keeps us updated, all is well. |
| | Steelhorse Posse has teamed up with Fraternal Order of Police Loge #50 and members from the Palm Beach County Sheriff's Office to make this year's "Walk for the Cure" the best yet. We will be participating in the 18 walk for the cure on April 24th, 2009. Check back for future information and information on ways interested people can donate or get involved. |
December 2008:
| | |
| --- | --- |
| | Steelhorse Posse attended the Bill's Bike's Memorial Toy Run. It seams that the participation increases every year. Sheriff Ric Bradshaw was generous enough to take time out of his busy schedule to be our Grand Marshal and lead the Event ride. If you have a minute, take a look at the photos on the Pictures Page. |
| | |
| --- | --- |
| | Steelhorse Posse would like to wish everyone a safe and happy holiday. We look forward to seeing everyone at local rides and events. We hope everyone is kept safe during the season. To our Brothers & Sisters in Law Enforcement, a very special Happy Holiday. |
November 2008:
| | |
| --- | --- |
| | Steelhorse Posse attended the Annual Party at Palm Beach Harley Davidson to show our support to a local business that has given so much to the local community through their donations and corporate support. We encourage everyone to visit Palm Beach Harley Davidson and be a customer of a business with a heart. |
| | |
| --- | --- |
| | On the 29th, members of the Palm Beach Posse and Martin Posse attended a memorial service in Pahokee to honor Deputy Sheriff Donta Manuel & Deputy Sheriff Jonathan Wallace. We presented the family with a memorial frame. Each frame contained portraits of the fallen Deputies, shadings from the Police Officer Hall of Fame, along with the PBSO Insignia and Star. This event marked the one-year anniversary of their deaths in the line of duty. They will always be honored and never forgotten. |
October 2008:
| | |
| --- | --- |
| | Steelhorse Posse is looking forward to new opportunities for the remainder of 2008. The membership has seen sizable growth and we still have not broken our 10% rule. |
| | |
| --- | --- |
| | Steelhorse Posse has teamed up with the Crossman family in hopes of supporting and co-sponsoring the Boggy Creek Love Run on February 15th, 2009. Check back for details. |
September 2008: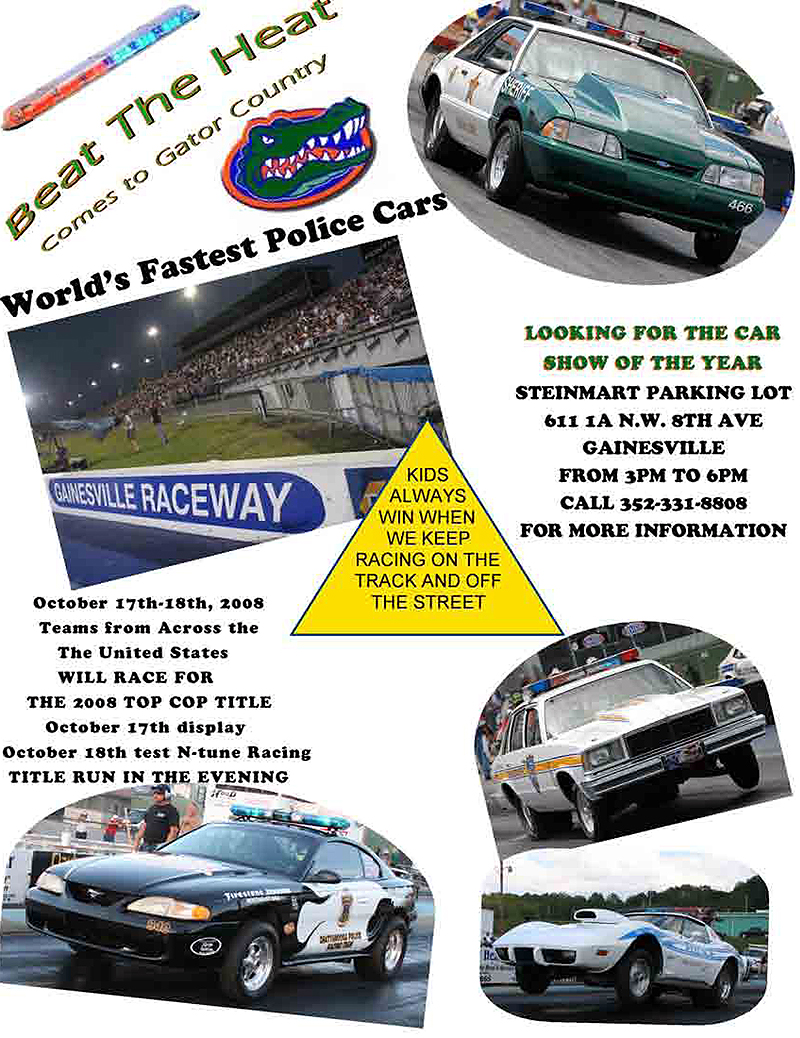 August 2008:
Steelhorse Posse MC attended the Sgt Chris Reyka Memorial Ride on August 9th. There was an impressive showing of support for the Reyka Family. We were surprised to see that Steelhorse Posse MC was the only Law Enforcement Motorcycle Club in attendance. Additionally, there was only one Law Enforcement Support MC in attendance, the Hard Chargers MC. Fortunately, the independent riders were very impressive. The procession down I-95 looked like an endless red snake.

Deputy Donelley and the other volunteers put on a very organized and respectful memorial for Sgt Chris Reyka and his family. They definitely get a well deserved "NOTEWORTHY" for their efforts. The food was great and the bands did a great job.

The Patriot Guard MC was in attendance. They showed their genuine support for the Reyka Family and the need to keep the memory of this tragedy alive and in the front of everyone's minds until the Killer's are caught and prosecuted.

Steelhorse Posse Motorcycle Club pledges our support to Sgt Chris Reyka's family. We will continue to support the Sgt Chris Reyka functions and continue to look for the killers.
_________________________
August brings us to the "Support PBC Heros Golf Tournament". The Golf Tournament boasts a Luncheon, Raffle and Auction. Everything takes place on Saturday August 16th, at PGA National. This year's event will benefit the families of:
PB Co. Fire Rescue Lt Ray Vazquez
PBSO Deputy Donta Manuel
PBSO Deputy Jonathan Wallace
Go to our Events Page for additional details or go to www.pgaresort.com
Join the Palm Beach County Sheriff's Office in honoring our Heroes
---
July 2008:
Happy Independence Day
To all of our Brothers and Sisters in:
Law Enforcement
The Armed Forces
&
The Motorcycle Community
---
June 2008:
This was a very cool month for our club. The Annual Smoky Mountain Run was awesome. Unfortunately, conflicting schedules reduced the size of our group, but we road like a crowd. While riding through the Smoky Mountain National Park we realized just how hard it is for Law Enforcement to take time off from work and enjoy moments like these, that's why the run was that much sweeter. When ever we can get away with some of our Brothers and Sisters, it's a special time. Cruise on over to our Photo Page and enjoy the pics.
---
May 2008:
This Memorial Day weekend Renegade came up with a good idea for a ride. Rather than sit around at a bar-b-que drinking beer, he though it would be nice for the Riders, who didn't have to work, to ride up to the Navy Seal Museum in Fort Pierce, Florida. He deserves a "Noteworthy" for this idea. The ride was awesome because the weather was perfect. The Museum is a very cool place to visit, everyone should make the trip and take the tour (www.navysealmuseum.com). We thought it was a great way to learn more about the history of the Navy Seals and the members of the various Seal Teams that have laid down their lives to protect the US Constitution and the citizens this great document represents. Take a moment to visit our photo page and flip through the Pics.
On May 9th, representatives from Steelhorse Posse traveled to Cocoa Beach, Florida to meet with members from the Gunfighters Nation. The "Gunfighters Nation" is a Law Enforcement Motorcycle Club who got their start in the Northeast. The Gunfighters hosted a party that also served as a fundraiser. We had a great time and made some new friends. Steelhorse Posse MC anticipates a great future of respect and riding with our new Brothers from the Gunfighters Nation. Take a moment to visit their web site and check them out (www.gunfightersny.com) you won't be disappointed. We also had the opportunity to spend some time with a few members from the Buffalo Soldiers MC. They are a fun group that are very serious about motorcycles and having fun. This is a club with a lot of history so take a few minutes to flip through their web site (www.buffalosoldiersnational.com). Check out the PHOTOS!
This is an exiting month for our club. We are proud to welcome two new members to our organization: Shroom and Busster, both of whom are members in good standing with the Palm Beach County Sheriff's Office. Both of these Brothers are senior members at the Sheriff's Office and we know their seniority and friendship will bring so much to our club.
---
April 2008:
---
March 2008:
Well March is here and Bike Week in Daytona Beach is in full swing. The True American Hero Motorcycle Ride was a great success. What a great day for riding. We went over to the west coast the night before and was treated to a pre-ride dinner by Twister, everyone had to loosen their belts. We had a really great time while raising money for our fallen Brothers & Sisters. Trot on over to our photo page and take a look.
---
February 2008: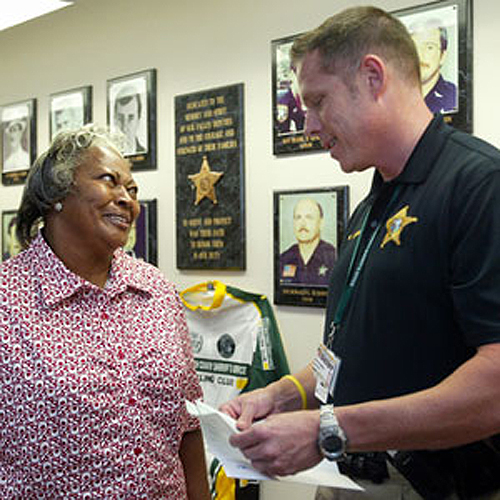 February 21, 2008:
Sgt Kevin O'Brien presented Rev. Patricia Wallace with a $2,500.00 check in honor of her son, Jonthan Wallace, who was killed in the line of duty on November 28, 2007. Rev Wallace accepted a second $2,500.00 check on behalf of Suzette Manuel to honor her husband, Donta Manuel, who also died in the line of duty on that same November evening. You should recall Sgt O'Brien was a participant in the Tour De Force for the past two years. Steelhorse Fellowship MC proudly sponsored Sgt O'Brien and the other riders from Palm Beach County Sheriff's Office for the past two years so we could make this special moment possible.
It's important for everyone in Law Enforcement and every Agency to get involved in the Tour De Force. The money Tour De Force provides to fallen Officer's families is more than a check, it represents to our Brothers and Sisters that we will be there for their families if they are ever called to make the ultimate sacrifice.
_________________________
We would like to apologize for the inconvenience with respect to the change from "Com" to " Org". The club is expanding and we needed the availability of additional avenues on the World Wide Web in order to ensure simplicity when someone wants to contact one of our individual Posses or Riders. Since we are a non-profit Law Enforcement Motorcycle Club, we thought it would be fitting to use the "Org" as our respective Law Enforcement Agencies do. Thank you, and we look forward to your continued support.
Kelly,
Founder: Steelhorse Fellowship Motorcycle Club, Inc.
& Steelhorse Posse MC
_________________________
Steelhorse Fellowship MC was proud to lend our support for the Camp Boggy Creek "LOVE RUN", we had a great time. Jenn Crossman and her parents are very special people. With all they have going on, they still make time support Jenn with with her idea for an event to raise money for this worthy and necessary organization. Please take a moment to visit the Camp Boggy Creek website and discover for yourself the incredible things they accomplish. At their request, Steelhorse Fellowship MC and all of our Steelhorse Posses have agreed to lend a helping hand with next year's event.
We would like to welcome our new Riders to the Collie and Palm Beach Posses. We look forward to seeing all of you at the events during the next few months. We have a full calendar this year so there should be something for every Rider. For those of you, non-members, who would like to ride with us, visit our Events Page and drop an email for the info.
---
January 2008:
We are very happy to announce that Spicoli is the proud father of a new baby girl.
On January 9th, Spicoli's wife gave birth to his second daughter, Mina Alanis. Mina arrived at 1108 hrs and came in at 6 lbs.-10 ounces. Mom and Mina are home and doing very well. Spicoli is a Rider from our Palm Beach Posse and is one of the original founding members. Spicoli, all of your Brothers & Sisters in Steel Horse Posse MC would like to say:
Congratulations
_________________________
To all of our Brothers and Sisters in Law Enforcement;
Happy New Year.
_________________________
The 11th Annual Tour De Force for 2007 was a great success. Sgt Kevin 0'Brien and Deputy Jim Corman completed the 290 mile bicycle ride from North Miami Beach to Daytona Beach Shores. Deputy Adrian Wallace and Deputy Rick Jackson joined in along the route to successfully complete partial rides. The Tour De Force has already raised over 136K for the families of Fallen Officers. Steelhorse Fellowship MC is proud to have sponsored riders from the Palm Beach County Sheriff's Office for the past two years. We look forward to next year.
________________________
Very Important!
There was a very important ruling on December 21, 2007 by the 2nd US Federal Court of Appeals. The decision is of great significance to Law Enforcement Officers of all levels. The decision involved four members of the Connecticut Department of Corrections; Gary Piscottano, Mark Vincenzo, Walter Scappini & James Kight. Two of these men joined the Outlaws MC and the other two associated with a Outlaws MC. The two that joined the Outlaws MC quit the club but continued to associate, they were fired. The other two were warned to stay away from the 1%er's and discontinue associating and attending 1% MC sponsored events. One listened and the other didn't, the one who didn't, was fired. The one who did listen, was severely disciplined. The four men filed Federal Law Suits claiming that their 1st and 14th Amendments were violated. The lower court ruled that their behavior was contrary to the public good and their case was dismissed. They appealed to the 2nd US Court of Appeals and the dismissal was affirmed. To our Brothers & Sisters of Law Enforcement; take the time to review this 77 page document.
The Appeals Court identified certain conduct and made the following decision:
Law Enforcement have no 1st Amendment or 14th Amendment rights to join a 1% MC or associate with same.

At first the men offered that they had no knowledge that the Outlaws MC had already been identified as a Criminal organization by several Federal and Local Law Enforcement agencies. A 1997 RICO in Wisconsin that imprisoned 17 members of the club was sited. A 2001 RICO in Florida was noted that resulted in the imprisonment of the club's President.

This information was contained in a NDIC report that was provided to the four men. Unfortunately, three of these men continued to associate with the Outlaws MC and other 1%er Clubs, they were all fired.

Two incidents are of particular interest. One involved attendance at an event that was merely (partially) sponsored by the Outlaws MC. The other involved repeated socializing at a local bar/eatery that is known to be frequented by the Outlaws MC and other 1%er's. The men attempted to deny the association but were then shown photos and video from routine Law Enforcement surveillance that confirmed their association.

The report indicated that their behavior "Constitutes or Gives Rise to the Appearance of a Conflict of Interest", and was "Unprofessional Behavior that Reflects Negatively On the Agency". Piscottano, while attending a Christmas party at the Outlaws Club House witnessed the execution of a search warrant. Piscottano actually was critical of Police for enforcing the law.

The Court noted: Pickering v. Board of Education; "The State has interests in regulating the speech of its employees that differ significantly from those it possesses in connection with regulation of the speech of the citizenry in general. More than 100 years ago the Supreme Court noted the government's legitimate purpose in promoting efficiency and integrity in the discharge of official duties, and maintaining proper discipline in the public service".
In a "Nut-Shell" the Federal Court has made it very clear that association is grounds for termination. This would include attending events sponsored or co-sponsored by 1% MC's. This would also include the membership in any organization where a 1% MC is also a member or associated with that organization. So be careful where you ride, play or drink. Take a hard look at the membership of any Motorcycle Club "Confederation", "Counsel" or "Association" that your LEMC is a member of or associating with.
Fortunately, Steelhorse Fellowship MC does not have to make one change to the activities of our Steelhorse Posses as a result of this Federal Ruling. We are proud to be 100% Law Enforcement and our Articles clearly forbid our members from engaging in this type of conduct.
If you want a copy of this ruling, email Kelly and make the request.
_________________________
December 2007: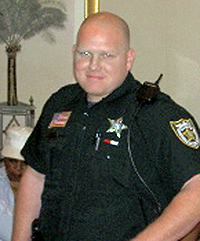 Tragedy and heartache has struck the Palm Beach County Sheriff's Office again. 2007 has been very hard on Law Enforcement in South Florida, and Palm Beach County was not spared. We end the year with the loss of another one of our Brothers, Deputy Timothy Crandall, who died on December 28th. Deputy Crandall was traveling on CR 880 in Western Palm Beach County. While driving westbound, Deputy Crandall passed another vehicle, he was operating his personal vehicle. For some reason there was a momentary loss of control and he struck a guardrail causing his vehicle to cross the roadway and flip, ejecting Deputy Crandall. Deputy Crandall's vehicle was found on it's roof in the canal bordering the roadway. Deputy Crandall was transported to Delray Medical Center where he was pronounced dead. He is survived by his wife Tiffany.
Deputy Crandall had recently received a life saving award while working at PBSO for saving a drowning man from a canal, unfortunately, it was a similar canal that took his life. Only 30 year-old and with just 6 years in Law Enforcement, Deputy Crandall's death is a great loss. Deputy Crandall was the Gang Liaison for PBSO District 9 and was a member for the Florida Gang Investigators Association.
---
2007 gave us a real hard hit to the gut at the very end. Two of our Brothers at Palm Beach County Sheriff's Office were taken from us. On November 28th, 2007 at 0109 hrs, members of PBSO responded to a call for service, a vehicle had just been stolen in the Western Communities. Deputies responded to the area and located the stolen vehicle, still occupied by the two Offenders. A plan was put into action, several Deputies began to coordinate an effort to stop the stolen vehicle and take the suspects into custody.
Deputy Donta Manuel and Deputy Jonathan Wallace quickly responded to the area, anticipated the route of the stolen vehicle and deployed "Stop-Stick" devices. The stolen vehicle drove over the deflation device and the tires were damaged. Unfortunately, the pursuing Deputies needed to position the K-9 Deputy at the front of the pursuit. The pursuing Deputies slowed to allow K-9 Deputy, Gregorio Fernandez, to make his way to the front of the pursuit so he could deploy his dog. As Deputy Fernandez passed the pursuing vehicles, Deputy Manuel and Deputy Wallace entered the roadway. Deputy Fernandez struck both Deputies with his patrol vehicle, killing them instantly. K-9 Deputy Fernandez sustained serious injuries and was transported by Trauma Hawk to St Mary's Hospital.
It is believed that Deputy Manuel and Deputy Wallace entered the roadway to remove the tire deflation device. We can only surmise that the retrieval apparatus failed and these two courageous Deputies placed their lives in harms way to remove the "Stop-Sticks" so the pursuing Deputies did not run over the device, thereby endangering the pursuing Deputies and possibly permitting the suspects to successfully flee.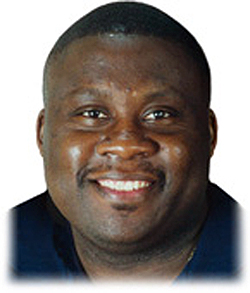 Deputy Manuel was a very special member of PBSO. For may of us, we remember him as a explorer who would always be seen volunteering his time with that big "RED" radio on his hip. His integrity, professionalism and natural talents made him everyone's 1st choice for a Deputy Star, unfortunately, we had to wait until he was old enough. Once he celebrated that magic birthday, he was given a star and he wore it with pride. 13 years of loyal devotion to his family, friends, and the Palm Beach County Sheriff's Office, this leader of the community will be missed.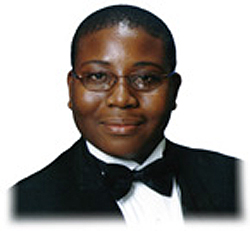 Deputy Jonathan Wallace was a young member of our agency. With less than two years on the job, he was still cutting his teeth and finding his way. Those who worked closely with him said that he operated beyond his time on the job and those who didn't know any better recalled thinking he was experienced beyond his years. A young soldier taken before he could become an "Old Salt".
This has been such a tragedy on so many levels, Steelhorse Fellowship MC wanted to allow some time to pass before posting. Thankfully, K-9 Deputy Fernandez is recovering from his injuries and doing well, he was able to attend the funeral services. Throughout this painful ordeal, Sheriff Ric Bradshaw showed so much support to the families of our fallen Brothers and Deputy Fernandez, he is a true friend to Law Enforcement. Motor Officers and Deputies from all over Florida came to show their support. There were over 300 Motor Units leading and supporting the funeral.
Events and other news from December 2007 will be posted January 2008.
This message should stand alone.
November 2007:
The 2007 Tour De Force will be running from December 3rd through December 7th. For those of you who are not familiar with the event, this is the "Low-Down":
Law Enforcement Officers from all over Florida jump on their bikes (that's bicycles) and take them down to North Miami Police Department to begin the run. These riders will spend the next 5 days peddling north to Daytona Beach Shores. This is 270 miles in 5 days to raise money for families of Fallen Officers. There are over 42 Law Enforcement Agencies involved with the run and has proven to be more successful each year. Last year Tour De Force raised over $35,000.00 for families of Fallen Officers and this year they want to exceed that number.
If you wish to make a donation and pitch in, just click on here "Kelly" and we will send you a pledge sheet. Or send a check to "Tour De Force Bike Ride" and mail the check to Sgt Kevin O'Brien at Palm Beach County Sheriff's Office; 3228 Gun Club Road, West Palm Beach, Florida 33406. You can contact Sgt O'Brien at ObrienK@pbso.org.
Go to our Events Page for additional information and photos.
On November 19, 2007 at 0800 hrs she had a beautiful baby girl, Hannah Isobel. 7 lbs 15 oz and 20.5 inches.
Congratulations
Steelhorse Fellowship MC was proud to be invited to the First Annual FGIA Rod Run & Motorcycle Rally. The event was a good time for all and we anticipate it growing each year. Several of our Riders are members of the FGIA as well as many of our Brothers & Sisters in Law Enforcement. Take a moment to view some of the pictures from FGIA RALLY and hopefully next year you will attend.
This has been a difficult year for Florida Law Enforcement Officers, we have lost 13 of our Brothers & Sisters this year. Please be careful so we don't have to grieve for number 14. Be sharp, look out for the others on your shift, take nothing for granted and remember that anyone can be a Cop Killer no matter what they look like.
October 2007:
Steelhorse Fellowship MC set up at Encore RV Park, located just behind Rossmeyer's Destination Daytona, for Biketoberfest 2007. Members from our Collier Posse and Palm Beach Posse attended the event as well as Posse Supporters. As usual they gave us a great spot under the pine trees. Which is a nice perk since our location allowed us to walk to Destination Daytona instead of battling the parking lot. Local Law Enforcement did a great job of directing traffic and keeping everyone safe. Main street was a blast and the vendors fit the bill. Go to the photo page Biketoberfest 2007 and check out some of the photos.
September 2007:
The 1st and most important issue for this month is taking the time to remember those of our Brothers and Sisters who were forever effected by the attack on New York on September 11th. The tragedy of that day was burned into the minds of every American. We need to make sure that those who lost their lives and those who lost loved ones are never forgotten.
Steelhorse Fellowship MC urges everyone to take some time and look at the Officer Down Memorial Page. This has not been a very good year for our Brothers & Sisters, Florida alone has 9 Officers killed in the line of duty. Gunfire has been the greatest threat, with vehicle accidents coming in second. 132 Officers taken from us so far this year and it seems violence toward Law Enforcement is spiking. Lets be careful out there and hopefully there won't be another loss this year.
Steelhorse Fellowship MC headed to Key West for the Annual Peterson's Poker Run. We had a great time and a special thanks needs to go out to Twister and Dan for making the weekend a memorable time. There was more food and drink than we could consume. As soon as we can gather up all the photos, they will be posted. The weekend was a relaxing time with our Brothers & Sisters from our Collier County District and our new members from Lee County. We are looking forward to another great time next month at BiketoberFest.
August 2007:
The "Got Dave" fundraiser at the Sound Advice Amphitheater was a great success. Take a few moments and flip through the photos. Dave looked great and was in terrific spirits.
July 2007: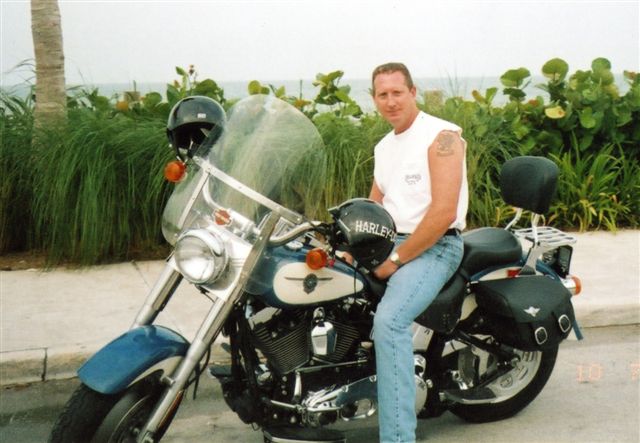 Sgt Bradford has since been transferred to Shepherd Center in Atlanta, Georgia to continue his fight against the paralysis he sustained during the motorcycle accident. This 19-year veteran of the Palm Beach County Sheriff's Office was struck down through no fault of his own. He was driving with other members of our agency when a reckless driver traveling at 104 mph struck his motorcycle. Since that day, Sgt Bradford has been in the fight for his life. Even though Sgt Bradford and his wife own a home in Palm Beach County, it is necessary for them to maintain a second residence in Georgia while he struggles through rehabilitation. Sgt Bradford's wife, Sandy, also works for the Palm Beach County Sheriff's Office. This family has spent the past two decades helping people and protecting victims.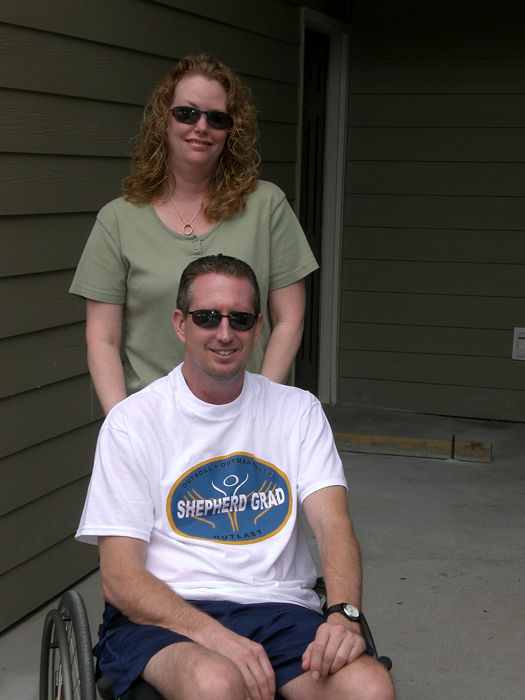 As you can imagine, the financial strain is as difficult as the emotional strain. But this is a strong family with a large circle of friends, they keep fighting. Steelhorse Fellowship Motorcycle Club has pledged our support to Sgt Bradford and his family. The founding members are active and retired Deputies of the Palm Beach County Sheriff's Office. We have ridden with Sgt Bradford, we have worked with Sgt Bradford and he is one of the best.
Please take a moment and visit www.Bradford454.com . This site posts progress reports of Sgt Bradford's rehabilitation as well as posting information for fundraisers. We ask that you keep Sgt Bradford and his family in your thoughts and take the time to attend one of the events.
August 25th, 2007 Noon till 5pm
Sound Advice Amphitheater - 601 Sansbury Way, West Palm Beach, Fl
For info: contact SHPMC or Deborah Hewitt 561-723-4779
June 2007:
On June 10th, Steve-O's Motorcycle Shop sponsored a fundraiser, and it was one heck of an event. There was live music by Wild Bushmen, tons of door prizes, food and loads of beverages. The weather was clear and the turnout was outstanding. The event raised 9k for the Bradford family. Although the event was sponsored by Steve-O's, several other businesses pitched in. So stop by Steve-O's (407 Commerce Way, Jupiter), support a business that supports Law Enforcement, and then go and visit the other businesses that pitched in and made donations to the event.
Sgt David Bradford is doing much better. Last we heard he was able to move around in a wheelchair and his spirits are high. The physical therapy is moving along very well and there is some movement in his left foot. The support and words of encouragement from Law Enforcement and the local community has been overwhelming. Sgt Bradford and Sandy send out their warmest appreciation.
May 2007:
Sgt Bradford Update
Sgt Bradford has shown much improvement. He is far from being our of the woods, but there are gains everyday. His wife, Sandy, has been at his side since the day of the accident. This has been very difficult for her but she has shown great strength and courage for both of them. The Central Florida PBA stepped in and has really been showing tremendous support to our Brother and his family. Sheriff Ric Bradshaw, along with other Command Staff Personnel, have traveled to Orlando to show their genuine friendship and support to Sgt Bradford. During tough times like these, it lifts the spirits of an injured Brother to know that everyone at his agency, from the Sheriff to the last man hired, has his back and is looking out for his family.
April 2007:
On Saturday April 28, 2007 one of our Brothers went down while in route to Leesburg for the Bike Event. Sgt David Bradford was traveling to the event with several other LEO's from the Palm Beach County Sheriff's Office. Sgt Bradford and his group were traveling north on the Turnpike when he was struck by a motorist who was traveling far beyond the legal speed limit. Sgt Bradford is presently in critical condition at a hospital in Orlando. Please keep Sgt David Bradford and his family in your thoughts and prayers.
On April 21, 2007 Steelhorse Fellowship MC traveled to Quincy Florida to show our support to Sheriff Don Hunter (Collier County) and his family. Sheriff Hunter's brother, Tony Hunter, has been diagnosed with cancer so his family and friends had a "Concert in The Barn" to show their love and support for Tony and to raise money for cancer research. The event took place on the May Tobacco Farm. There was more food than we could eat, the music was top notch, and the people were the best you could ask for. Billy Pierson, a local singer who just signed with a major label, donated his time and talent to headline the event. The Defenders MC assisted Sheriff Hunter with coordinating the guests who had traveled long distances to attend the event, special thanks to Chubbs. Steelhorse Fellowship MC was honored that our club was one of only two clubs invited to attend this event. Our love, respect and heartfelt support goes out to Tony Hunter and his family. Please take a moment to view some of the pictures taken at the barn. This event gave us some special time with our Brothers and Sisters in our Collier County District. One of those special members, Twister, took the bull by the horns and set everything up for us. All we had to do was make the ride and enjoy the company. Twister works very hard at putting together our events and rides and we owe her much respect and gratitude. She is one of our best members are we are privileged and honored to ride with her.
We had the pleasure of spending some time on the Iron Shield MC website, this is a very professional organization. We recommend everyone take a moment and visit the site (www.IronShields.org) it will be worth it. The Club Insignia is traditional and very honorable. The message and the foundation for the club is without a doubt, true New York. We are very proud to call the Iron Shields MC our brothers and sisters.
Steelhorse Fellowship MC had the pleasure of joining our Brothers & Sister in Brevard County for the 5th Annual "LAWRIDE". It was a great time and we will continue to support this event every year. Sheriff Jack Parker is a genuinely nice guy. It doesn't take long to see that he is a down-to-earth man who truly cares about the citizens of Brevard County and the employees working for his agency. The LAWRIDE was a real ride that took us through three counties. Take a moment to visit our "Photo Page" and check out some of the pics.
---
March 2007:
Biker Mother of Six
A Biker's greatest achievement was his brood of six children. He was so proud that he constantly called his wife: "Mother of Six", which always pissed her off. Even though she pleaded with him to stop, he could not help calling her "Mother of Six", even in public. One afternoon after attending a Poker Run that was winding down, he called out, "Mother of Six - ready to go home yet?" At first she was enraged, she composed herself, and then yelled out across the bar "Anytime you're ready Father of Four!"
5th Annual Brevard County - "LAWRIDE"
Memorial Ride - Sunday April 1st, 2007
(For more info, go to the Events Page)
---
FEBRUARY 2007:
There is a particular Motorcycle Club that thought it would be a good idea to copy an image from our website and use it on their website. This type of behavior is unprofessional and not cool. Especially from a Club that claims to respect all other MC's. If there is an image someone would like to use, have the common courtesy to ask permission. The image possesses an intentional hidden mark and a flaw to identify it as Steelhorse Fellowship MC property. We will not make an issue out of the unauthorized use due to the content the image was included in. In the future we just ask that someone desiring to use an image, have the decency to ask permission, this would be the adult thing to do.
The Peace Keepers MC have lost one of their members, Deputy Stuart Reeves. Please take a moment to visit their site and show some support. www.PeaceKeepersMC.org
---
JANUARY 2007:
The Law Enforcement Agencies represented in Steelhorse Fellowship MC share a common bond with every other Law Enforcement Agency across the United States; we all have members serving in the Military . Some of us have lost Brothers or Sisters on foreign soil and we feel the pain in the hearts of the families left behind. Protecting the citizens of this great country sometimes takes our Brothers and Sisters to foreign lands, but the dedication to enforcing the law and keeping the peace is always in their hearts. Pride cannot be stolen, fortitude cannot be breached and dedication is unstoppable.
---
DECEMBER 2006
Happy Holidays
To all of our brothers and sisters in Law Enforcement and those proudly serving in the US Military.
This is a special time of year for family and friends, unfortunately it can also be a very dangerous time of year. One of the greatest Hazards is also one of the simplest to avoid, alcohol related injuries and deaths. If we look out for each other, everyone of us can make it home safe this year.
December 08, 2006
We are proud to announce that Sergeant Kevin O'Brien completed the 2006 Tour de Force on 12-08-06 at 1445 hrs. Sergeant O'Brien was able to raise $2,000.00 during his 270 mile ride. This year's event exceeded the goal and the riders raised $22,000.00 for the families of fallen officers. Steelhorse Fellowship MC would like to congratulate Sergeant Kevin O'Brien and all the riders for their dedication to help their Brothers and Sisters in Law Enforcement.
10th Annual - Tour de Force 2006
Steelhorse Fellowship Motorcycle Club sponsors rider in this year's Tour de Force
This year's Tour de Force will have a rider from the Palm Beach County Sheriff's Office (PBSO). Sergeant Kevin O'Brien will be riding during the 2006 event. The 270 mile bicycle ride, that benefits the families of fallen Police Officers, will begin at the North Miami Beach Police Department on Monday December 4th and end in Daytona Beach Shores on December 8th. This event will take the riders through 42 LEO jurisdictions and more than 500 Law Enforcement personnel are expected to participate. Since the first Tour de Force in 1997, the event has gained strength every year and has raised over $87,000.00 for the families of fallen Law Enforcement Officers. This year's proceeds will go directly to assist the families of Fallen Florida Law Enforcement Officers, the target is to exceed 20K. The riders have donated their time and bodies to this event, emphasis on BODY! The riders are required to cover their own expenses, which include 4 nights in a hotel to complete the 5-day ride. Steelhorse Fellowship Motorcycle Club has donated the money to cover all of Sergeant O'Brien's lodging.
We know some Bikers that aren't willing to put 270 miles on a motorcycle, but Sergeant O'Brien is putting his BUTT on the line, literally. Last year only 32 riders completed the entire 270 mile ride, this charity event takes guts and a big heart, and Sergeant O'Brien packs the gear. Sergeant O'Brien has been a dedicated member of PBSO for 19 years, during that time, his assignments have ranged from Road Patrol to Field Training Coordinator. He has been assigned to the PBSO Tactical Unit, Organized Crime Bureau, and Detective Bureau. He maintains several instructor certifications and recently graduated from the Southern Police Institute. He has been instrumental with the recent Royal Palm Beach Police Department merger, as well as Team Building initiatives and Career Fair presentations. Sgt Kevin O'Brien is a former US Marine who served in Japan and North Carolina as a Nuclear-Biological-Chemical Defense Specialist who trained other Marines in this very critical field. He was assigned to our local 4th ANGLICO-USMCR in West Palm Beach, Florida. His dedication to Country and Corp earned him the assignment of NBC Chief and Helicopter Rope Suspension Master. As we said before, Sergeant Kevin O'Brien packs the gear to enter this ride and complete this ride. Oh Yeah.... He also organizes the annual "Toys for Tots" drive through the United States Marine Corps Reserve for Palm Beach County Sheriff's Office.
Join Steelhorse Fellowship MC as we support the Tour de Force and Sergeant Kevin O'Brien. If you would like to make a pledge, contact Detective Mike DeMarcus at TourofForce@aol.com.
---
NOVEMBER 2006
General Message
Steelhorse Fellowship Motorcycle Club would like to take this opportunity to thank all of the Law Enforcement Motorcycle Clubs (LEMC's) that have extended their friendship and respect to our club. The support and encouragement from the other TRUE LEMC's, Independent MC's, and Law Enforcement agencies has exceeded our expectations.
Due to the demands of the diverse work schedules placed on our members we have found it very difficult to attend the numerous events we have been invited to. Steelhorse Fellowship MC makes every effort to attend as many LEMC events as we can because we know how important it is to support our Brothers and Sisters in Law Enforcement.
Be Safe, Be Brave, Be Proud......
Steelhorse Fellowship Motorcycle Club
November 10, 2006
Happy Birthday USMC
November 18, 2006
Steelhorse Fellowship MC traveled to Florida's West Coast to show our support to the Defenders MC. The Defenders held their 4th Annual Hugh May Memorial Poker Run to keep Hugh May's memory alive and raise money for his children's college fund. The event was a success on many levels. The weather was as perfect as the ride and everyone had a great time. The Defenders pulled out all the stops and the event was a lot of fun. The food, the band, the people, were all Top Shelf. We were able to spend some time with old friends and had the pleasure of making some new friends. SPMC can't say enough about the respect and friendship the Defenders extended to our club and the other attendees. The Defenders MC receive a well deserved "Big Tip of the Hat" for a job well done.
---
OCTOBER 2006
October 28, 2006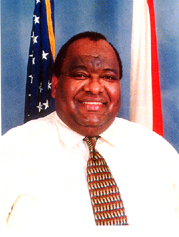 Johnny S. Flint, Sr.
(AKA: SHAFT)
Today we said goodbye to one of the finest Law Enforcement Officers Florida has ever known. He dedicated his life to his family, friends, and Law Enforcement. Those of us who had the honor and pleasure of knowing him, either called him "Johnny" or "Flint". Johnny is one of the most well known and well respected Investigators in Palm Beach County. Johnny's career has been nothing less than spectacular, but his many accomplishments as a Law Enforcement Officer did not signify his greatest achievements. Johnny Flint will be remembered, most of all, for being one of the finest human beings we have ever known. He loved his family with a passion and spoke of them all the time. His friendship is considered a gift and you were privileged to have Johnny consider you a friend. I have never seen so many Cops say that they loved another Cop in all my life, but the words rolled off their tongues when they spoke about Flint. Johnny's humor and stories are legendary, no one could "Tell It" like the Flint. The man was a master at bringing people to tears with his stories and descriptions of events past and present. I always called him Shaft (referring to the Movie Character John Shaft) because Johnny was a smooth operator, who always kept his cool.
I will never forget this man, a man who gave so much to so many and never asked for anything in return. Johnny's passing has left such a big hole behind because he contributed so much. Johnny Flint is one of those special people that you never stop thinking about. The wound from his loss will never heal, a tear will always fall at the sound of his name, and we will always hear his laughter in our dreams.
Detective Michael Bianchi (Kelly)
Palm Beach County Sheriff's Office
October 2006

Pink Lighting Chrome and CB's is hosting a Truck Show in Riviera Beach. This is expected to be a great event. Pink Lightning has always been a friend to Law Enforcement, so take the time to show some support. You'll have a great time, see some great boats and custom tractors, as well as meet some new friends.
---
SEPTEMBER 2006
September 10, 2006
Devils Tower will be celebrating its Centennial this year on September 24th. The Centennial Committee will be hosting numerous events to mark the celebration. For more information, go to the Devils Towel Centennial Committee website.
September 11, 2006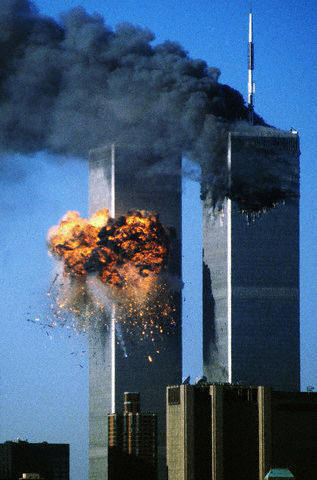 This date marks the 5th Anniversary of the attack on America by cowards from the Middle East. Many lives were lost on this date in this great nation's history. For most people this date brings back images of planes flying into the World Trade Center (Twin Towers). Unfortunately this date also saw the attack on our Pentagon and the loss of lives when United Airlines Flight 93 crashed into a field in Pennsylvania.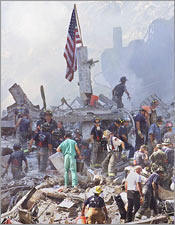 The attacks caused the loss of many innocent lives, but the tragedy did not end there. Many more dedicated Law Enforcement and Emergency Services personnel paid the ultimate sacrifice while attempting to save the injured.
New York City Fire Fighters and Police Officers placed themselves in the gravest of danger when there was only a sliver of hope to save even one life.
Regrettably, the tragedy continues as many who responded to "Ground Zero" are still feeling the effects of the toxins that they breathed and the poisons that were absorbed into their skin.
Many organizations speak of dedication and loyalty, but none can compare to the men and woman we proudly call our Brothers and Sisters.
Please take the time to visit the National Law Enforcement Officers Memorial Fund website and show your support.
---

Steelhorse Posse MC
Steelhorse Fellowship Motorcycle Club, Inc.®